Posted September 27th, 2017
By Kris Powers
The BLS reports that "Overall employment in the U.S. economy is projected to increase 6.5 percent during the 2014–24 decade, adding about 9.8 million new jobs. The most new jobs added and fastest job growth will occur in healthcare practitioners and technical occupations and healthcare support occupations." While their Employment Projections Report explores the top 30 fastest growing occupations, we'll focus on the top 12 below.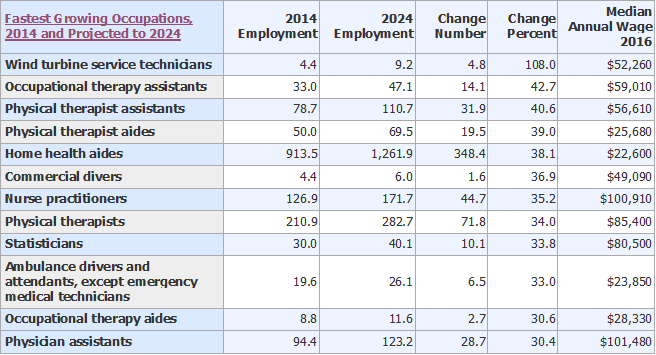 Table Source: https://www.bls.gov/emp/ep_table_103.htm
Six professions with the highest growth rates don't require a four-year college degree. For some of these occupations, applicants will need certification or associate's degree in a specialized area. Other occupations require a GED or high school diploma.
Job growth in occupational therapy, personal care and service occupations, as well as community and social service occupations will be driven by demand for healthcare. According to the U.S. Census Bureau, by the year 2035, people over age 65 are projected to be a fifth of the population. For comparison, older Americans made up 10% of the population in 1970, and 13% of the population in 2010. As the percentage of Americans 65+ grows, so will the demand for healthcare; as older people typically have greater healthcare needs.
The growth of the wind turbine service technician reflects changing technologies and the growth of energy conservation awareness. While wind turbine service technicians receive a substantial amount of training on the job, an associate degree in applied sciences in a program geared toward training wind turbine technicians is desired. The good news is that programs are expanding quickly throughout the country.
Ed4Career and Ed4 Health and Human Services are dedicated to helping you obtain the training you need to stay current in today's workforce. We offer an extensive catalog of courses and programs in Medical and Healthcare. We also offer training in Green Energy! Check us out today!